All-New 2023 Ford F-150 Raptor R Is the Most Powerful Raptor Ever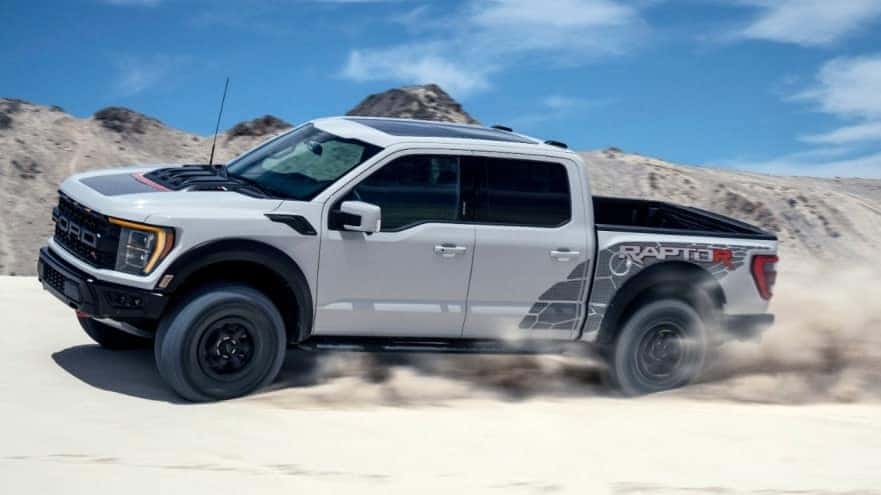 Ford's most powerful off-road pickup is here. Ford has teased the all-new 2023 Ford F-150 Raptor R for some time, but now it's here and it has been well worth the wait. In developing the new Raptor R, Ford wanted to ensure that it would be its most powerful and capable off-road pickup truck yet. Although Ford has been busy working on its F-150 Lightning and Maverick Lightning, the Raptor R demonstrates the full range of Ford's ability. Boasting pure performance, the F-150 Raptor R is for those wanting to overcome the toughest of off-road terrain. Consumers will be able to place their reservations as order banks open soon. For now, we'll be taking a look at what consumers can expect from Ford's most powerful Raptor.
The F-150 Raptor R is An Off-Road Phenomenon
Ford's all-new 2023 Ford F-150 Raptor R goes beyond the standards of the Raptor family. While the Raptor lineup is known for its high performance and off-road capability, the Raptor R takes it a notch further. The off-road pickup truck arrives with a new 5.2L supercharged V8 engine that's capable of 700 horsepower and 640lb-ft of torque. This engine comes paired with a 10-speed SelectShift transmission that has been drastically improved. Ford has also improved most of the pickup truck's equipment to further enhance its capability and performance.
The 2023 Ford F-150 Raptor R is equipped with a recalibrated engine that has been optimized for off-road use. Ford has increased torque delivery and provided the pickup with a unique dual exhaust system. This allows drivers to have even greater control over how power is distributed. The Raptor R also has several driving modes including Normal, Sport, Quiet, and Baja. With its upgraded suspension and 37-inch tires, the Raptor R is capable of high speeds with balanced ride quality and roll control. The pickup also features 13.1 inches of ground clearance to help drivers traverse the toughest of terrain.
Inside the Raptor R, owners will note a black leather upholstery with Alcantara suede. There's also carbon fiber along the doors and instrument panel. Owners can enjoy Recaro seats. As for technology, the Raptor R offers a suite of advanced driver-assist technology. This suite includes Trail Turn Assist, Ford Trail Control, and Tral 1-Pedal Drive all of which help improve off-road driving. For entertainment, there's a 12-inch touchscreen with SYNC 4 that comes compatible with Apple CarPlay and Android Auto. For those interested in the 2023 Ford F-150 Raptor R, order banks will open soon. Production will start in the fall of 2022, so customers can expect to receive their pickup sometime in early 2023.
Come Test Drive a Brand-New Ford with us at Kenny Ross!
Interested in an all-new Ford F-150 Raptor R? So are we! Come down to Kenny Ross Ford South where we can help you find the right vehicle for your needs. You can browse our inventory of new vehicles or check out our quality pre-owned inventory. At Kenny Ross, we're more than happy to help our customers find what they are looking for. We can offer suggestions like auto financing to help make paying for a vehicle easier. 
Looking to finally fix the ride you currently have? You can also schedule an online service appointment and have our expert technicians provide you with everything you need to feel safe and secure on the road. Stop by today and see what we can do for you right now!
Photo Credit: Ford