Ford's Instrument Clusters Will Feature Apple CarPlay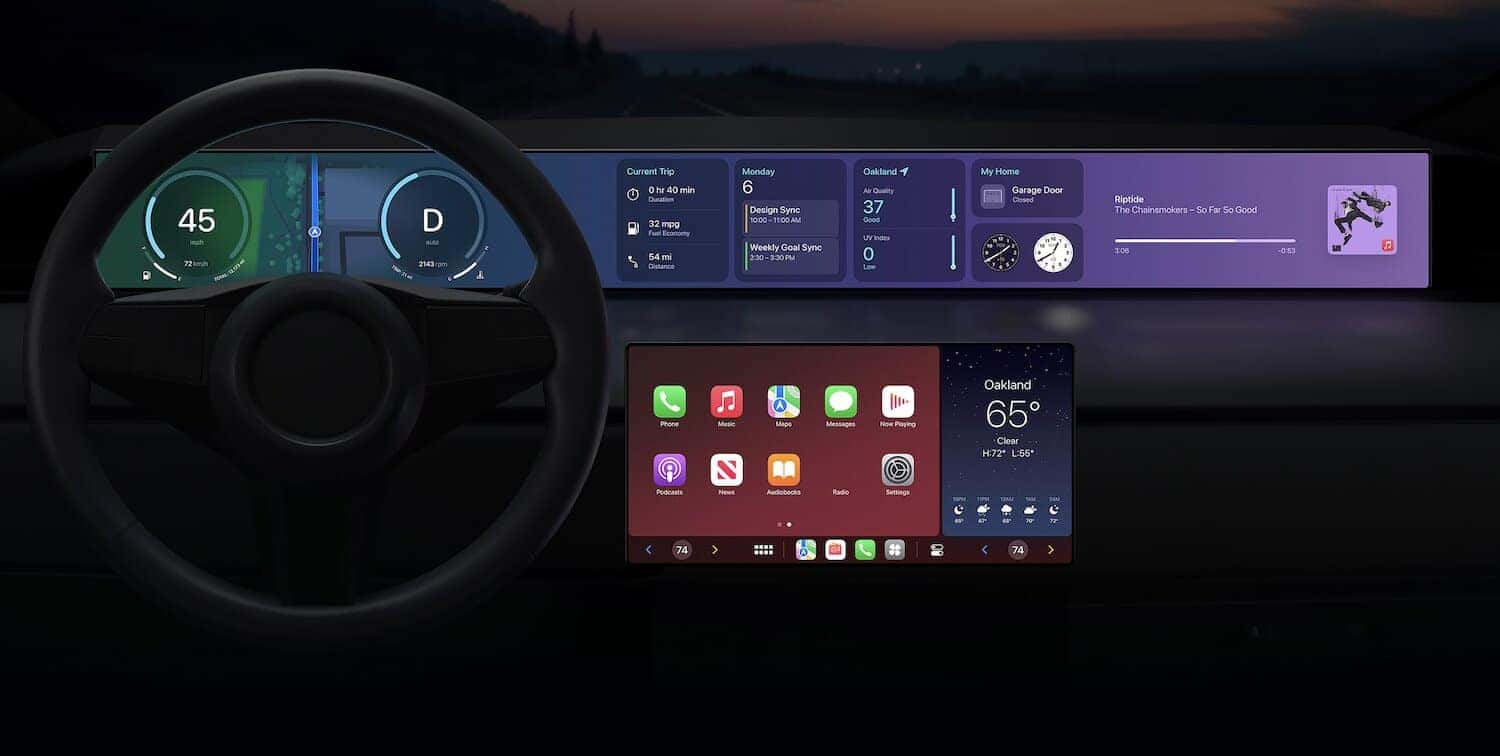 In recent years, the latest vehicles have inherited an immense amount of technology. Oftentimes car fanatics inherit an infotainment system they grow familiar with just to retain another when it's time for a new automobile. In addition to alternating infotainment systems, software updates bring added features, enhance existing ones, and seek to make interfaces easy for users to operate. 
Yet, many loyal Blue Oval fanatics find it challenging to complain about their Ford vehicles' Apple CarPlay and or Android Auto. Nevertheless, with Apple's recent announcement, substantial transformations are underway, and Blue Oval fans will find it challenging to step away from their Ford vehicles.  
Apple, the tech empire, announced the iOS 16 preview. Additionally, Apple disclosed that the next-generation variation of Apple CarPlay would cover every screen inside the car. So, not only will the vehicle's infotainment screen strengthen the Apple CarPlay's display, but also the digital instrument cluster and all other in-vehicle screens. 
The new Apple CarPlay configuration will premiere a more cohesive appeal. Additionally, users will be free to oversee the temperature of the car and even the radio via the Apple CarPlay interface.  Furthermore, the Apple CarPlay interface lets consumers customize whatever fits them, such as choosing a curated gauge cluster design or the perfect widget. 
The future is right around the corner with the next generation of Apple CarPlay. The CarPlay interface is unique and fitted to each vehicle. Therefore, tailoring the Apple CarPlay interface is necessary to accommodate the different shapes and screen sizes essential for every Ford vehicle. In addition to interface accommodation, Siri also acquires new responsibilities. For instance, Siri's auto-send function operates after a message is read back. Furthermore, fueling and driving task apps will also become functional for enthusiasts. 
The new Apple CarPlay integration is tremendous for America's favorite automaker mainly because Ford will deliver compatibility with the next-gen variation of Apple's impeccably designed future. 
Last but certainly not least, no one forgot about the Android lovers out there. As a matter of fact, the Blue Oval automaker and Google's Android operating system, along with third-party apps, will make their way inside Ford vehicles by next year. Yes, that includes the outstanding Ford F-150 Lightning as well. 
Your 2022 Ford is Here Waiting For You at Kenny Ross Ford South
Remember that feeling you had when you purchased your first car. You were grasping that steering at ten and two because the freedom to go wherever whenever you wanted was now a key ignition away. Times have changed, the ignition requires a tap instead of a turn, and just like your car, no one will feel your head with gas here at Kenny Ross Ford South. \
Here at Kenny Ross Ford, we have an array of new vehicles and quality pre-owned vehicles to make the selection process difficult for you.  
Most importantly, our sales team wants to take you back to the day when you purchased your first vehicle and provide an experience that exceeds those expectations. 
Our finance managers want to mimic that first car nostalgia with rates just as competitive as the first time. So if you want a headstart on that new car smell, apply for our simple-to-use auto financing. 
However, if you aren't ready to give up your most prized possession, don't worry. Our technicians are here to take on your next service or auto repair. 
No one understands the importance of finding the right vehicle in this zero-emission transition like Kenny Ross Ford. Whether it's the 2022 Ford Mustang, understanding where you stand financially, or a routine maintenance check with over sixty years of experience, our fulfillment only comes when we find the perfect vehicle for you, just like your first time.