Hands-Free Lane Changing for Ford's New BlueCruise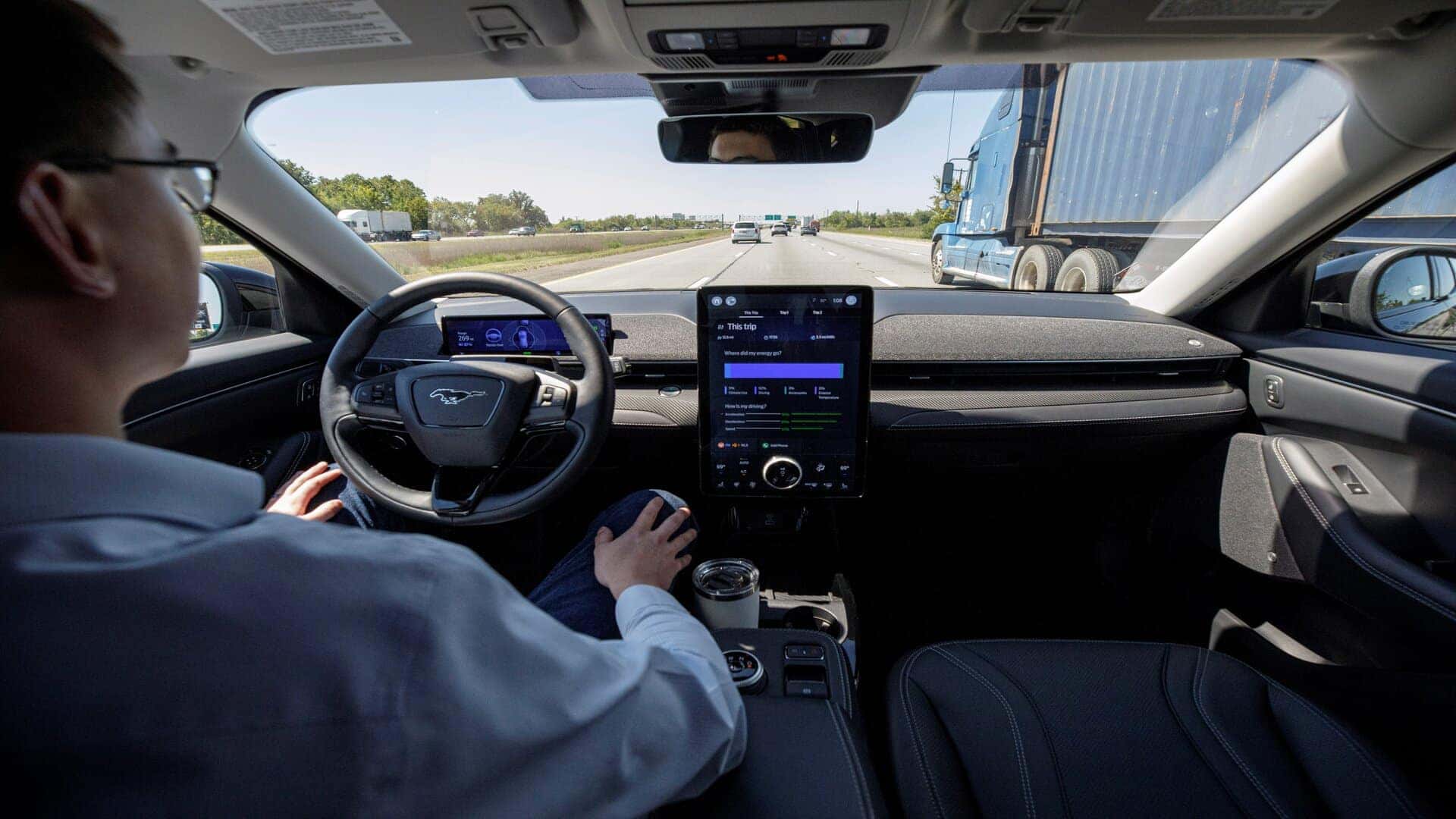 "We are investing in our ADAS team to constantly improve BlueCruise and ActiveGlide for our customers. The latest improvements allow customers to command lane changes using just a turn signal, and make hands-free driving feel more human-like by smoothly slowing down for turns, and giving more room to large vehicles in neighboring lanes. These improvements are just the beginning of a constant journey toward improving safety and, in the future, giving customers valuable time back." 

– Chief EV & Digital Systems Officer, Ford Model E, Doug Field  
America's favorite automakers remain resilient, and the only time the carmaker finds harmony is in success. Yet, even though the Blue Oval won't halt and appreciate their handy work, the automaker has revealed a lot of triumphs worth honoring. For instance, Ford recently added a hands-free lane change to its auxiliary. 
The advanced hands-free driving system will launch as BlueCruise 1.2. In addition, the new BlueCruise will feature hands-free lane changing and system updates to provide a more 'human-like' driving experience. Moreover, the evolved system will arrive on Blue Oval vehicles by the Fall of 2022. Furthermore, the Ford Mustang Mach-E will be the first to attain the new BlueCruise 1.2 system. 
Here are three new features to anticipate from Ford's BlueCruise.
Predictive Speed Assist: Automatically modifies the vehicle's speed for a smooth transition. Predictive Speed Assist is essential when Ford lovers approach a sharp-edged turn; the system then notifies the driver before a speed change transpires. Furthermore, the predictive speed assist guarantees that Ford enthusiasts will comprehend why the car is slowing down. 
Lane Change Assist: Helps Ford lovers move through interstate traffic more confidently while engaging BlueCruise. In addition, the Lane Change Assist will accomplish a hand-free lane change with an easy tap of the turn signal. Moreover, Lane Change Assist will suggest if a lane change is practical while cruising through slow-moving traffic. 
In-Lane Repositioning: Provides a more natural-feeling hands-free driving experience that maintains the vehicle in its lane while subtly shifting the American automaker's vehicle away from adjoining lanes. Moreover, the repositioning features are valuable next to larger-sized cars or semi-trucks. 
The ingenious engineers of Ford work busily to improve ADAS or Advanced Driver Assistance Systems for a balanced driving experience. In addition to revamping handling and performance, Ford engineers refined its maps for over-the-air updates. Moreover, Ford's BlueCruise can pinpoint prequalified routes that currently span over 130,000 miles. 
Come Test Drive Your 2022 Ford Mustang Here at Kenny Ross Ford South 
There's a 2022 Ford Mustang with your name on it, and Kenny Ross Ford South is ready to provide you with a vehicle beyond your wildest dreams. But, here at Kenny Ross Ford South, the most challenging decision you'll make here is so many new vehicle inventories and quality pre-owned vehicles that make choosing difficult for you. Additionally, our finance managers are sure to find the right program at the most competitive rates. So if you want to get a headstart on that new car smell, apply for auto financing at any given second. However, if you aren't ready to surrender your most prized possession, don't worry. Our technicians are here to take on your next service or auto repair. So make your way over to Kenny Ross Ford South. Whether it be a deeply discounted car, aggressive lease payment plan, routine maintenance, or a significant overhaul, sixty years of business should let you know you've come to the right place. Ask a neighbor and see what Kenny Ross Ford South has in store for you.
Photo Source/Copyright: Media Ford