Ford Adds New Charging Hardware to Portfolio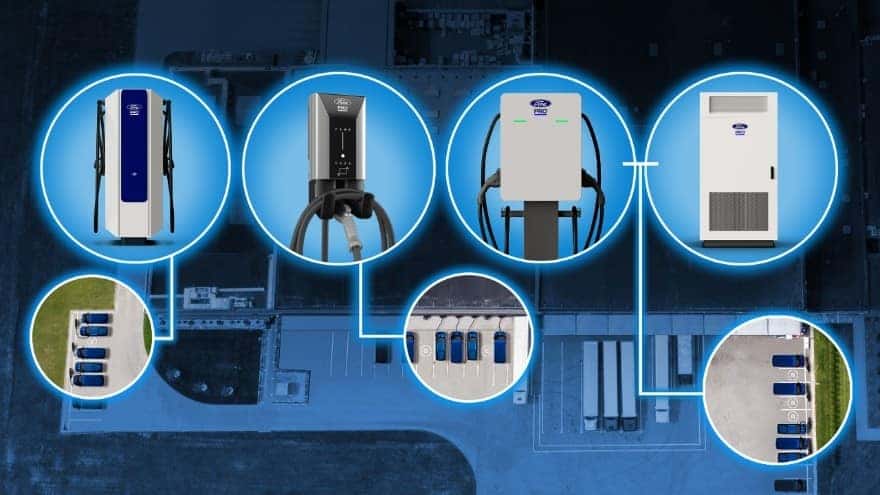 Ford is adding several new home and depot chargers to its portfolio. Ford's subsidiary, Ford Pro, will be hosting the new hardware. As one of the United States' leading commercial providers, Ford Pro handles the transition to electrification for commercial consumers. For fleet operations, Ford Pro proves to be highly efficient as they work to install and service Ford's charging hardware. As of late, Ford has been on a roll supplying consumers with electric vehicles like the F-150 Lightning and Mach-E. As automakers continue to work to combat the global climate crisis, many are realizing that in order to support an electric future, the US must have the proper infrastructure. As a leading automaker, Ford is working to implement this electric infrastructure. We'll explore how Ford is aiming to outfit commercial and fleet operators with its Ford Pro charging hardware.
New Charging Hardware for Commercial EV Customers
Ford Pro will be offering commercial fleet operators new charging hardware. This hardware will consist of home chargers and large-scale depot charging systems. As a subsidiary of Ford, Ford Pro operates as one of the leading commercial service providers in the United States. The provider offers a range of services that help customers as they transition to electric vehicles and electric charging capabilities. About their new hardware, Ford Pro CEO Ted Cannis said,
"We are investing heavily in products and services to help commercial customers accelerate into an electric future, which means helping to ensure our hardware and software can plug and play with other manufacturers, as we know many customers operate mixed-make fleets," said Ted Cannis. "These chargers can be completely customized to unique commercial environments and can work even better when paired together with Ford Pro electric vehicles and Telematics to enable OEM-grade data transparency."
Ford Pro will serve as the guide to electrification for commercial customers. By setting up the proper infrastructure and providing companies with the tools they need, Ford will enable numerous companies to adhere to the global emissions standards laid out by governments around the world. Ford will continue to support companies after installation with Ford Pro E-Telematics and Ford Pro charging software. This will allow fleet managers to track their vehicles, monitor smart charging, and maximize vehicle efficiency.
Along with Ford Pro's software, Ford also has its Blue Oval Charge Network which is the largest public charging network in the US. Ford's charging network is located at more than 20,500 charge locations and is also equipped with 70,000 plugs. With this new software, Ford is hoping to lead the US into a greener future.
Come Test Drive a Brand-New Ford with us at Kenny Ross!
Interested in an all-new Ford F-150? So are we! Come down to Kenny Ross Ford South where we can help you find the right vehicle for your needs. You can browse our inventory of new vehicles or check out our quality pre-owned inventory. At Kenny Ross, we're more than happy to help our customers find what they are looking for. We can offer suggestions like auto financing to help make paying for a vehicle easier.
Looking to finally fix the ride you currently have? You can also schedule an online service appointment and have our expert technicians provide you with everything you need to feel safe and secure on the road. Stop by today and see what we can do for you right now!
Photo Credit: Ford