Ford Hints at New Multifunction Car Visor in New Patent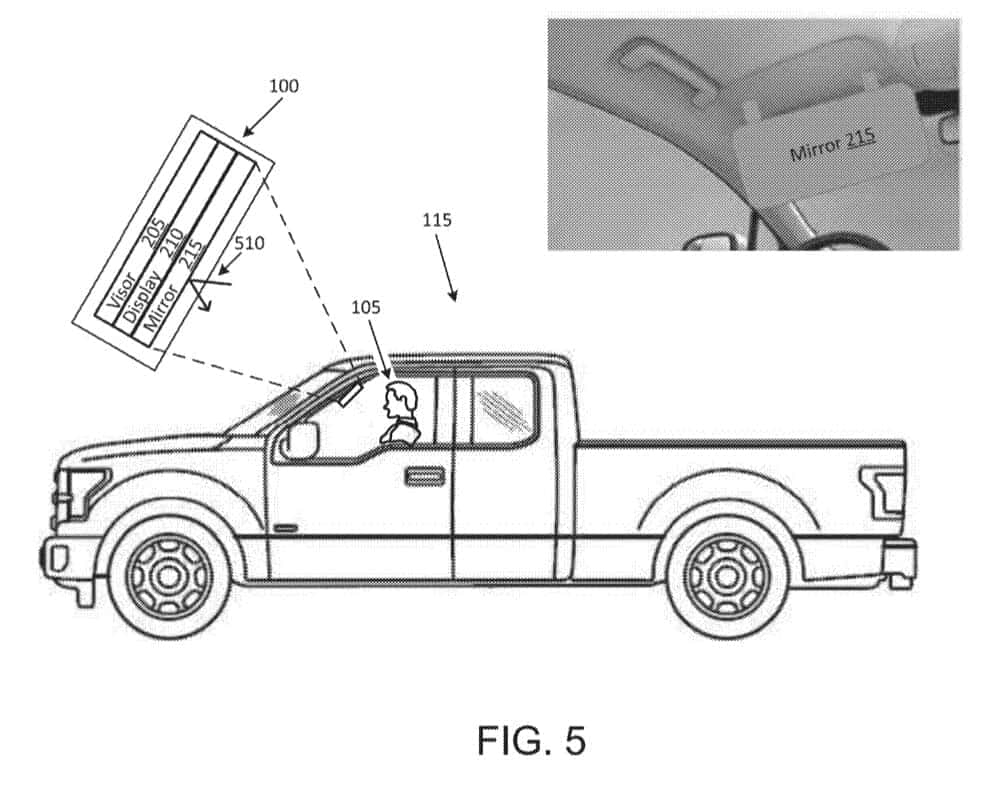 Ford recently published a patent for a multifunctional car visor system. The patent was filed in 2020, but it was recently released to the public. As of late, Ford has taken to experimenting with new innovations and features that the automaker hopes will make life easier for consumers. From new charging hardware to a virtual steering wheel system, the Blue Oval has been leaning heavily into new convenience features. Ford has also been focusing on EVs. The all-new F-150 Lightning and Mach-E have been well received and the automaker has even split its company into two to better focus on its lineup. With so much going on, it's surprising to see Ford still aiming to do more. This speaks to the dedication and ingenuity of the automaker. For now, we'll take a look at the latest idea to come from the Blue Oval.
Ford Plans New Multifunctional Car Visor
Ford recently published a patent for a multifunctional car visor system. Initially filed on October 1st, 2020, the patent details a visor with multiple layers, each of which has a different function. The car visor has remained relatively unchanged for quite some time. While lighting fixtures and mirrors have been added, nothing like what Ford is attempting has been seen before. Ford previously tried to add screens to the car visor, but this idea didn't quite land. Fortunately, trial and error is a huge part of ingenuity. Leave it to the Blue Oval to come up with innovative ideas.
In Ford's patent image, a traditional car visor can be seen. Attached to this is an additional layer, however. Ford's patent notes highlight various functions such as a GPS system, a camera system, and a HUD system. These come in addition to the traditional features like the mirror and visor used to protect a driver's eyes from the sun. From Ford's notes, it's clear that the Blue Oval wants to reinvent the typical visor to include additional driver-assist features.
We're not sure how far along Ford is with the overall design of its new patented visor, but from the images, it seems to be the next level of driver convenience. If Ford can install a GPS system and vehicle camera into the visor, this can help drivers better navigate their drive. It can also help improve driver safety. Along with the GPS and camera system, there's also an ambient light sensor that would automatically adjust the lighting. Drivers will also be able to choose which part of the visor they want to use by flipping between them. If Ford can perfect this new technology, the Blue Oval will certainly be seeing a lot more interest.
Come Test Drive a Brand-New Ford with us at Kenny Ross!
Interested in an all-new 2022 Ford? So are we! Come down to Kenny Ross Ford South where we can help you find the right vehicle for your needs. You can browse our inventory of new vehicles or check out our quality pre-owned inventory. At Kenny Ross, we're more than happy to help our customers find what they are looking for. We can offer suggestions like auto financing to help make paying for a vehicle easier. 
Looking to finally fix the ride you currently have? You can also schedule an online service appointment and have our expert technicians provide you with everything you need to feel safe and secure on the road. Stop by today and see what we can do for you right now!
Photo Credit: Ford